Friday, March 25, 2022
OUT NOW! We are thrilled to release our new single and music video, "There's A Place Where I Can Go", taken from our forthcoming album "Lullabies" (out April 29, 2022).
We had the great honor to work with Liv Weiss, a talented and lovely filmmaker, who made all of this possible. We couldn't be more grateful for having the privilege to collaborate with her. Thank you so much, Liv!
This song is about a man, played by the fantastic Patrick Fenucci, who has lost his other half and is plunged in sorrow and suicidal thoughts. Despite the desire to join her, he finally decides to embrace life.
We hope you will like it!
Tuesday, March 15, 2022
"You wanted the best, you got the best"! There are no words to describe how happy we are to have the opportunity to play with KISS at Paléo Festival in Nyon (CH) on July 19, 2022.
Special thanks to Vincent Dévaud from The Best of Underground and to Paléo Festival who made this dream come true.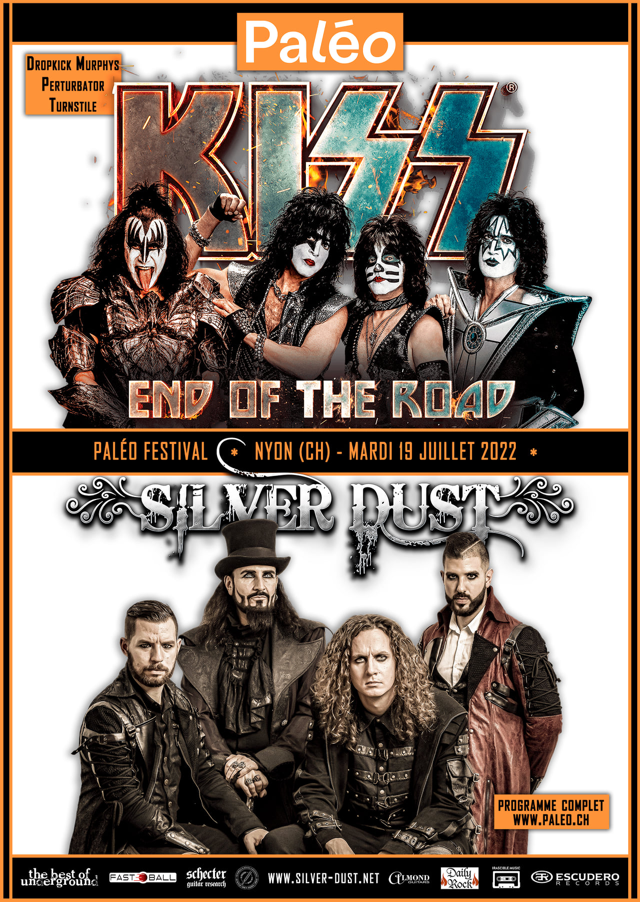 Sunday, February 27, 2022
Lord Campbell, Kurghan and Neiros are proud of playing with Schecter Guitars and SIT Strings.
Thanks to Ultrason & Matthieu Guignard as well as Sticks Musique & Lionel Burns Blanc for believing in Silver Dust.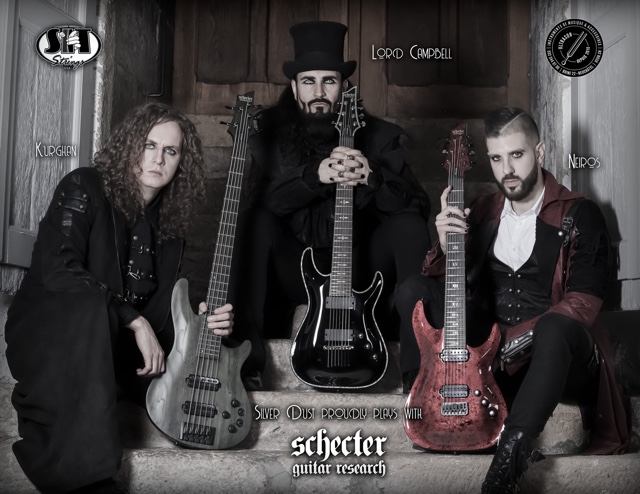 Sunday, February 6, 2022
We can't wait to present for the very first time our new album, "Lullabies", on Saturday, April 30, 2022 at the Case à Chocs in Neuchâtel (CH).
For the occasion, we will share the stage with our friends from Chaoseum who will open the show.
We are looking forward to seeing you. Be there!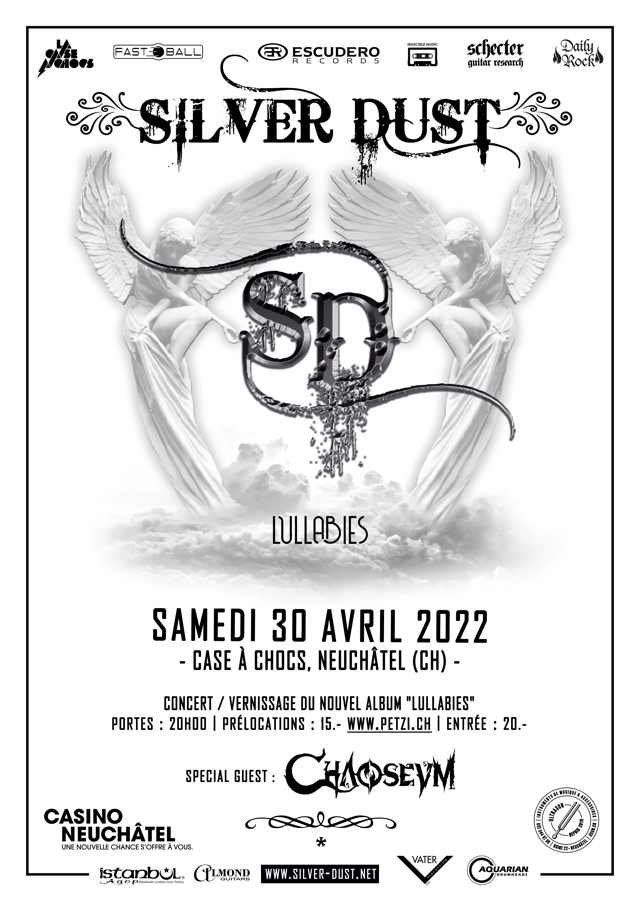 Tuesday, October 5, 2021
Spain, we will see you again in 2022!
It is a tremendous honor to announce that we will play at the Rock Imperium Festival, in Cartagena, in June 2022. We will share the stage with Scorpions, Europe, Whitesnake, Avatar, Doro, Jinjer, Black Label Society and many more.
We can't wait to see you again!