Thursday, September 29, 2016
Lord Campbell was invited at the 12:45 on RTS on Thursday, September 29th to talk about Silver Dust, his sports and musical career as well as the European tour that starts tomorrow.
Tuesday, September 27, 2016
You were more than 7.400 people listening to the interview of Lord Campbell, Kurghan, Mr.Killjoy et Tiny Pistol on Radio People last night!
Thank you all and thanks Philippe Jung for his welcome and for the great time spent together.
Sunday, September 25, 2016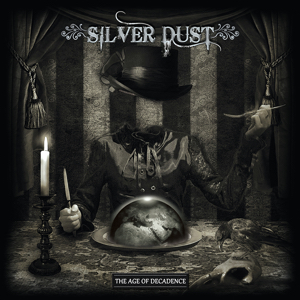 The departure for our European Tour with Lordi approaches quickly. Before going on the road, we want to thank you from the bottom of our heart for your precious support that allowed us to achieve what we have done so far.
As a gesture of thanks, we are pleased to offer you "Heaven Knows" (radio edit), song from our latest album, as a free download on the band's MX3 page. Happy listening and stay tuned because other surprises will follow in the coming days!
Sunday, September 18, 2016
Lord Campbell will be invited at the 12:45 on RTS TV news on Thursday, September 29th!
One day before the departure for the 2-month European Tour with his band SILVER DUST, he is going to talk about this great event, his musical career and the lightning rise to power of the band.
Sunday, September 18, 2016

The tour starts on October 1st in Markneukirchen in Germany. Throughout those two months, you will have the opportunity to follow the band through some posts, videos, etc. Silver Dust will also be active on its Facebook page and is looking forward to sharing this wonderful journey with you.
We thank our partners and sponsors as well as the various associations that support us fulfilling this first European Tour with LORDI. A new menu "European Tour" has been added in order to group all sponsors. THANK YOU SO MUCH TO EVERYONE!